Professional Scrum Facilitation Skills™
Professional Scrum Facilitation Skills is an interactive course designed to help Scrum practitioners develop a facilitator's mindset, proficiency in facilitation skills, and learn when and how to select effective techniques for various circumstances. Strong facilitation skills enable better problem-solving, more effective Scrum events and greater team alignment, all leading to better outcomes.
A key tenet of Scrum is to put problem-solving and decision-making in the hands of the Scrum Team. The Scrum Framework creates venues for this to happen and the Scrum Values help create an environment in which each Scrum Team member's voice can be heard. However, team interactions don't always go well. Sometimes team members lose sight of goals, don't fully engage and/or can't reach agreement. Effective facilitation can guide the team toward their desired outcomes.
Who should attend?
This course is ideal for:
Scrum Masters and any Scrum Team member interested in learning how to use facilitation to enhance their team's success; for example, Scrum Masters, Agile Coaches and Consultants. This course is not suitable for professionals with little Scrum knowledge or experience.
What is the class?
In this one-day skills-building course, participants will learn how to become better facilitators to improve interactions with their Scrum Teams, stakeholders and customers. They will focus on how to adopt facilitation as a stance and enable the Scrum Values. Students will address a series of common Scrum-related scenarios by applying several facilitation techniques that they can add to their collection of agile practices. They will create and leave with their own facilitation "plan" to improve their next team discussion or Scrum event.
The areas of focus are:
Develop facilitation skills and a facilitator's mindset
Learn the facilitation principles that experienced facilitators fall back on when interactions are difficult
Understand the roles that facilitation principles and the Scrum Values play in enhancing healthy collaboration in Scrum Teams
Explore how facilitation can address challenging scenarios most Scrum Teams encounter
Apply facilitation skills and techniques to improve the Scrum events and other interactions
Understand how to encourage diverse perspectives, while bringing the team together to reach decisions
Experience the elements of group dynamics and how they influence the decision-making process
Leave class with a toolbox of facilitation techniques and understand how to apply them in different circumstances
What are the benefits of attending a PSFS with Optilearn?
There are lots of trainers offering the same course. When you book directly with Optilearn (sometimes, we offer our classes via Partner Training Organisations) you will receive the following benefits:
If you fail your (free) PSFS assessment attempt on the first go, we'll give you free mentoring, coaching and teaching to help you fill in the gaps before your (free) second attempt.
Specifically designated time in every class for assessment preparation. Practicing some mock questions and receiving feedback will increase your chances of success.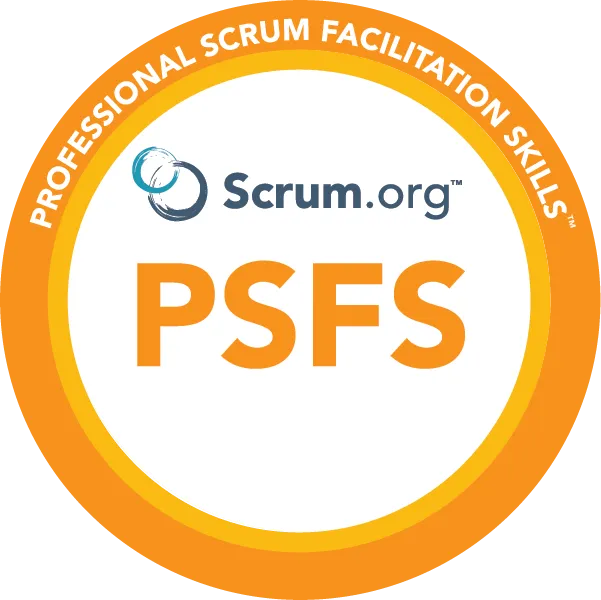 Course overview
---
This class is for those who regularly find themselves facilitating Professional Scrum events. It will cover facilitation techniques to help improve these interactions.
---
1 day or 2 half days
---
Virtual or In-person
---
Download course PDF
Would your organisation benefit from our Professional Scrum Facilitation Skills™ class?
Use our simple tool to create a personalised, instant quote today.
Build your quote