Professional Scrum Product Owner™
The Professional Scrum Product Owner (PSPO) class and associated assessment is widely regarded as the industry standard for Product Ownership certification. It is created and examined by scrum.org, the home of Scrum. By taking this class, you can be assured that the courseware, trainer and (hopefully) the resulting certification is of the highest quality.
Who should attend?
This course is appropriate for students in any industry where teams are working to solve complex problems. For example, this includes Scrum Masters, Product Owners, Product Managers, Developers, and organisational managers who work with products and their valuable delivery. Despite the name of the class, it is not just for Product Owners.
There is no requirement for any knowledge of product or software delivery prior to participating.
What is the class?
Typically offered as two day/four half-day classes, the PSPO is an interactive learning experience. You will learn the theory behind the Scrum framework, and hear experiences from our trainer/s how they've applied the principles in industry.
The areas of focus are:
Agility – increasing business agility through proper execution of the Product Owner accountabilities.
Business – learning how to bridge business strategy to product delivery effectively, whilst supporting a product over project mentality.
Product techniques – implementing effective Product Backlog management, release management, forecasting and stakeholder interaction.
Empiricism – the evidence-based, decision-making theory that underpins the whole Scrum framework.
Metrics – tracking value creation and how to measure product success, consequently improving empirical decision making.
Communication – considering how to effectively communicate the strategy, product vision and Product Goal.
What are the benefits of attending a PSPO with Optilearn?
There are lots of trainers offering the same course. When you book directly with Optilearn (sometimes, we offer our classes via Partner Training Organisations) you will receive the following benefits:
If you fail your (free) PSPO I assessment attempt on the first go, we'll give you free mentoring, coaching and teaching to help you fill in the gaps before your (free) second attempt.
Specifically designated time in every class for assessment preparation. Practicing some mock questions and receiving feedback will increase your chances of success.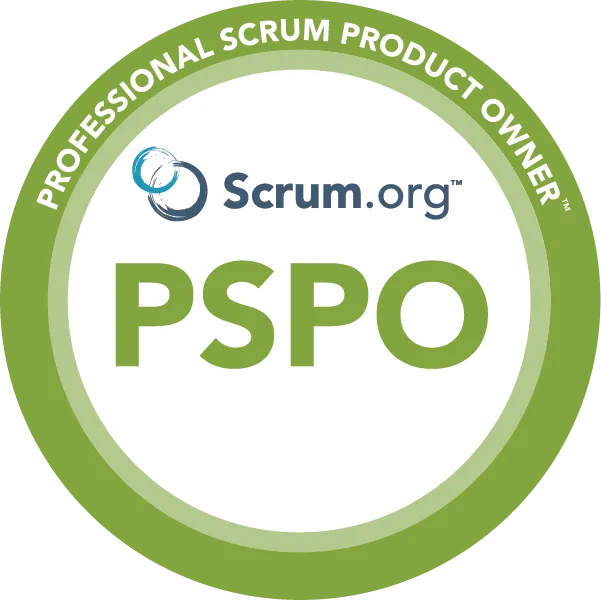 Course overview
---
This class is for those wanting an activity driven experience designed for those new to Product Ownership. It will cover the theory needed to confidently begin working in a product environment.
---
2 days or 4 half days
---
Virtual or In-person
---
Download course PDF
Would your organisation benefit from our Professional Scrum Product Owner™ class?
Use our simple tool to create a personalised, instant quote today.
Build your quote